How the Army's New HR Platform helps you support Soldiers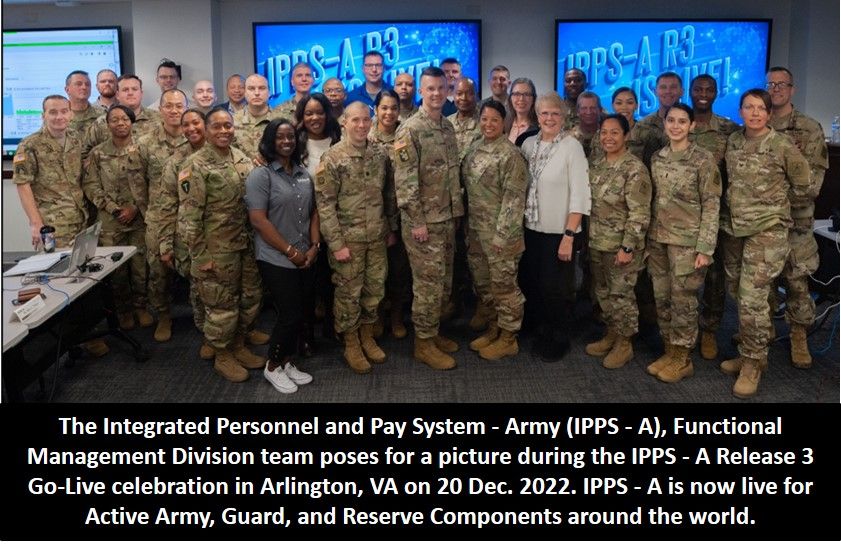 The Army's top human resources (HR) modernization effort, the Integrated Personnel and Pay System - Army (IPPS-A) Release 3 (R3), launched to more than 1.1 million Soldiers, across the Active Force, Army Reserve, and Army National Guard, on January 17, 2023. The R3 deployment follows years of dedicated teamwork and is a large part of the Army's commitment to The Army People Strategy and modernizing its dated HR systems. The result is an innovative online system that ensures the Army can better meet the needs of Soldiers. With the launch of IPPS-A R3, the Army has delivered the most extensive implementation of PeopleSoft in history!
"With IPPS-A, Soldiers have a modern system capable of delivering the data they need to make recommendations to their Commanders," said COL Rebecca Eggers, IPPS-A's Functional Management Division Chief. "This platform is a game changer for the Army because it enhances how HR Professionals can support Soldiers while optimizing Army readiness."
IPPS-A helps meet Soldiers' needs by delivering a system that provides them with complete transparency and the ability to track the status of their personnel actions. For the first time, all Soldiers can see their HR data. Many of the Army's manual paper processes — such as for submitting leave (now called absence), awards, or name changes — are now automated. HR Professionals do not need to input the same personnel information into multiple personnel and pay databases.
While some requests are still performed outside of IPPS-A, personnel actions performed within the system that automatically trigger pay changes eliminate a separate manual pay transaction. This streamlines the process and reduces the chance of manual errors. For example, before IPPS-A, S-1s had to hand deliver paper documents to local finance offices for absence requests. Finance professionals would manually input the leave data into the Defense Joint Military Pay System (DJMS) to charge the Soldier's leave. Soldiers can now perform these requests in IPPS-A, which transmits them to DJMS automatically, eliminating the need for manual printing and hand-carrying documents to local finance offices. This automation level helps reduce errors, increase efficiency, and save time.
Users contacted the IPPS-A team to share their experiences submitting requests in IPPS-A. One Soldier excitedly reported that she pulled a full non-deployable report in mere minutes. "I was in full 'geek' mode," she stated, acknowledging that this was impossible before IPPS-A R3. Another informed the team that he received Permanent Change of Station (PCS) orders just 48 hours after completing his assignment elections in IPPS-A and that he was "one happy customer." These examples of ease-of-use and automation highlight IPPS-A's capabilities and underscore its purpose — to provide HR Professionals with a modern suite of capabilities to better serve Soldiers.
The modern system can be easily updated to adapt to changing Army policies. For example, IPPS-A quickly responded to the recently-refined parental leave guidance by updating the absence categories to support Soldiers' ability to begin requesting the new categories through IPPS-A immediately. This dynamic nature of the system also makes it a vital component of The Army People First Strategy and talent management efforts. With IPPS-A, leaders can better manage the individual talents of the Total Force based on their knowledge, skills, and behaviors — optimizing Soldiers' contributions to Army Readiness, helping them capitalize on opportunities, and improving their Army career experience and quality of life.
IPPS-A also brings ease of use and convenience through mobile accessibility. The IPPS-A mobile application (app) allows Soldiers to access their personnel records using a mobile phone or tablet. Once Soldiers register their common access card (CAC) and create a DS Logon with the Defense Manpower Data Center (DMDC), they may access IPPS-A self-service utilizing their DS Logon. The app provides Soldiers access to Army personnel records without requiring a CAC for authentication. It has the same level of sophistication and security that secure banking and personal service apps have today. Through the app, self-service transactions — including help tickets known as cases — are automated, paper-free, and transparent from initiation to approval. Elevated users can also CAC login into the app, allowing HR Professionals and Commanders to approve actions anywhere, anytime.
Many Soldiers have taken to social media to express just how simple it is to use the IPPS-A app. One Soldier conveyed her amazement at how easy it was to submit a pass request for President's Day weekend from her phone. "Wildly impressed," she stated. Another reported that his Commander approved an award in IPPS-A from his cell phone while waiting at an airport for TDY travel. These are great examples of how Soldiers are experiencing not only the convenience but also the timeliness of IPPS-A's mobile capabilities.
Along with convenience and timeliness, IPPS-A offers user care and support. IPPS-A's Customer Relationship Management (CRM) module and IPPS-A Help Desk (available 24/7) allow users to ask questions and get help. Since transitioning from legacy software systems to a new one is a complicated process, IPPS-A's robust customer support resources help guide users who require additional time and assistance to learn how to fully utilize the system now that it is live. Additionally, the system includes a comprehensive user manual and frequently asked questions database for users to learn and find answers independently.
IPPS-A is a Soldier system. Now, every Soldier can use IPPS-A for their personnel, pay, and talent management actions. Offering automation, mobile accessibility, pay efficiency, transparency, and service and assistance, IPPS-A is designed to meet the needs of Soldiers and the Army of the future.
"This has been a long journey, and we appreciate the hard work and dedication of everyone involved in this effort throughout the development," said COL Eggers. "With IPPS-A, Soldiers are more empowered and supported – and we are proud of that."
IPPS-A will continue to leverage Soldier feedback to augment capabilities and customization to enhance users' experience further. Focus areas will include a talent management marketplace, Military Pay (MilPay), and Service for Analytics and Business Intelligence Reports (SABIR), which is IPPS-A's HR Data Analytics platform.
To learn more, visit https://ipps-a.army.mil/.