Scholarships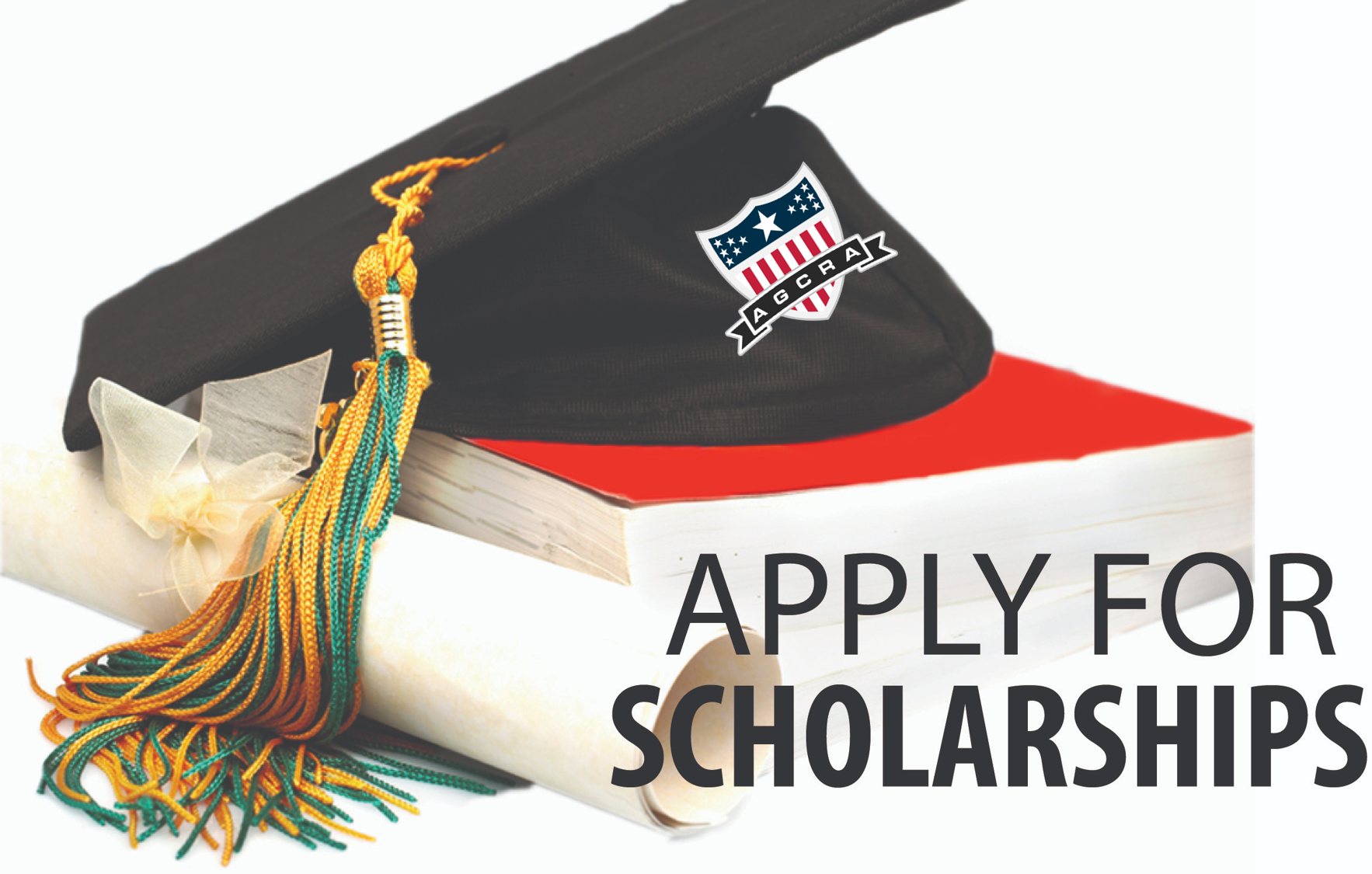 AGCRA Scholarships Program 2023 is completed.  Stay tuned for the AGCRA Scholarship Program 2024 announcement anticipated in late Fall 2023.
The 12th Annual AGCRA Scholarship Program is awarding six new $1,000 individual scholarships for 2023, and revalidating four $1,000 scholarships from the 2022 Program.
The application opportunity for the 2023 Scholarship Program is now open.  Scholarship applications must be received by 24 May 2023.  
IF YOU HAVE ANY ISSUES UPLOADING YOUR SCHOLARSHIP APPLICATION ON THIS WEBPAGE, THEN YOU CAN EMAIL THE APPLICATION DIRECTLY TO SCHOLARSHIPS@AGCRA.COM.
Scholarship winners will be first informed directly, followed by a worldwide announcement through all AGCRA social media sites provided below; please ensure they are listed as one of your favorites on social media.
Interested in donating to the AGCRA Scholarship Fund?  Pick your donation today!
The AGCRA Scholarship program recognizes and rewards eligible AGCRA members and their authorized dependents and/or grandchildren based on academic excellence, community/school activities, and military affiliation or service (if applicable).
Eligibility
Any active AGCRA member or an active AGCRA member's authorized dependents and/or grandchildren can apply.
Applicant must be accepted or enrolled as a student at an accredited university, college, community college, or trade school (otherwise known as an accredited institution), or enrolled in an established 529 education savings plan.
For a second-year automatic $1,000 AGCRA Scholarship, the applicant must maintain a B average GPA or higher during their first AGCRA scholarship school year and submit their academic transcript for validation.
Applicants can only receive a total of two $1,000 AGCRA scholarships.
How to apply:
Details of the AGCRA Scholarship Program can be found in our Memorandum of Instruction (MOI) by clicking the Download link below.
Applicants should read our Scholarship MOI first before completing their application.
We have also provided a scholarship application template you can Download as well.
You are requested to submit a single, consolidated .pdf scholarship application file.  If you have any issues creating your .pdf application, please contact Scholarships@agcra.com.
Note – You can still apply for an AGCRA scholarship if you have no ROTC, military affiliation, or prior / current military service.
Finally, you must be an AGCRA active member to apply or an authorized dependent and/or grandchildren of the active member.  So, to upload your .pdf scholarship application you must do one of the following:
New AGCRA Member – 1) sign up below and register, and 2) then purchase a membership.
Already an active AGCRA Member – 1) login below, and 2) upload your scholarship application.
An Authorized Dependent and/or Grandchild of an Active Member – 1) login with the Active Member's username & password, and 2) then upload your scholarship application.
Questions: