AG Corps HOF & DMOC Classes of 2022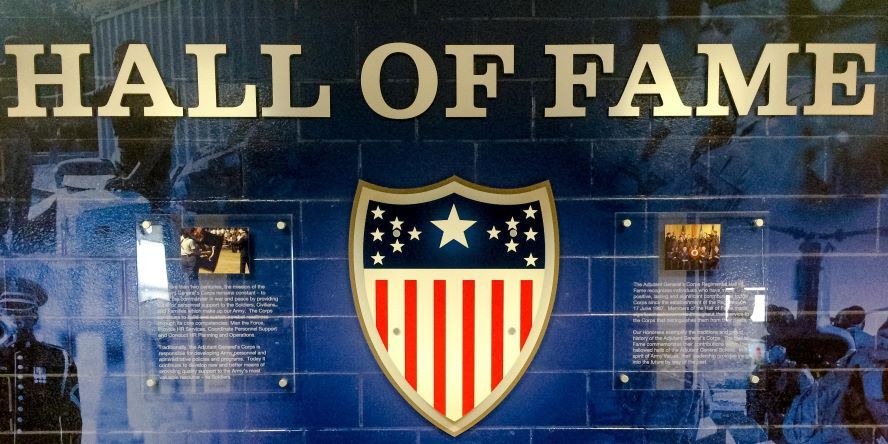 AG Corps HOF & DMOC Classes of 2022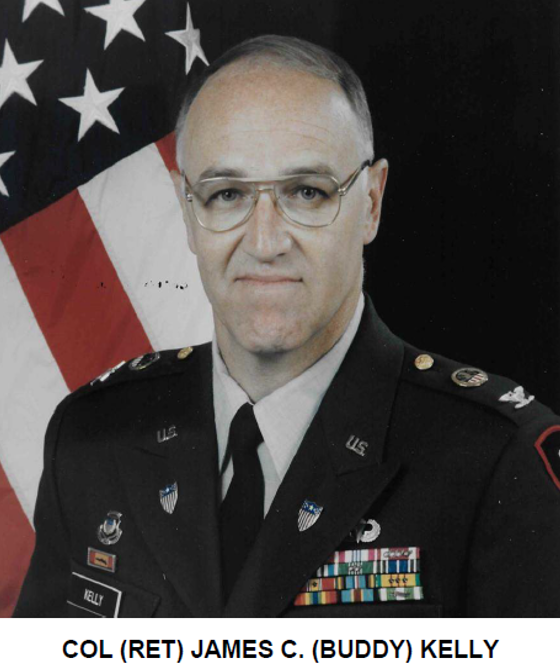 COL (Ret) James C. (Buddy) Kelly helped develop many exceptional senior HR operators who excelled over four decades, providing the AG Corps with a legacy of leaders with many lasting contributions in their own right. Out of his directly associated group came a U.S. Army TAG; two Force Command G1s; a Chief of the Adjutant General's Corps; four Brigade-Level Commanders; four Division G1s; an Administrative Assistant to the Supreme Allied Commander, Europe; and four members of the AG Corps HOF.
– Technically, COL (Ret) Kelly had few peers. He was historically the right officer at the right time while serving as the Deputy Director, Enlisted Personnel Management Directorate, Personnel Command (PERSCOM). During his tenure, he ensured the full-spectrum readiness of the Army's Enlisted Force. During his generation, he was arguably the best Enlisted Readiness Manager in the Army. His technical prowess was singularly instrumental and historically significant in maintaining Army personnel readiness. He helped shape the Army's Enlisted force as we know it today. His broad readiness management expertise/impact was also demonstrated earlier in assignments in Europe as Chief of Staff, 1st PERSCOM, and as our AG Branch Chief at Army PERSCOM in Alexandria, VA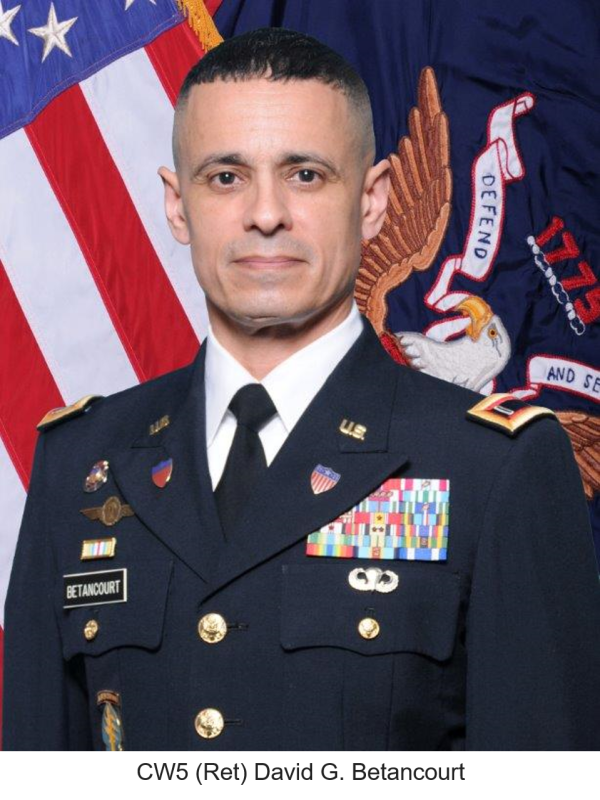 CW5 (Ret) David G. Betancourt joined the Army in 1992 and was appointed a warrant officer in 1999. Throughout his 26-year career, he served in numerous positions throughout Special Operations and the operational Army, culminating as the 6th Chief Warrant Officer of the Adjutant General's Corps.
– Following retirement, CW5 (Ret) Betancourt continues to influence the modernization of Army Human Resources as a TRADOC Proponent Office Training and Leadership Developer focused on delivering IPPS-A training throughout the institutional and operational Army. He also continues to promote physical fitness in the AG Corps through annual challenge events supporting the AGCRA.
– CW5 (Ret) Betancourt is a leading technical expert in Army and Joint human resources systems. From early in his career, he was placed in positions with broad impacts supporting numerous theaters and commands. A master mentor and teacher, his drive for excellence in himself and those around him created his legacy of developing, inspiring, and educating AG professionals.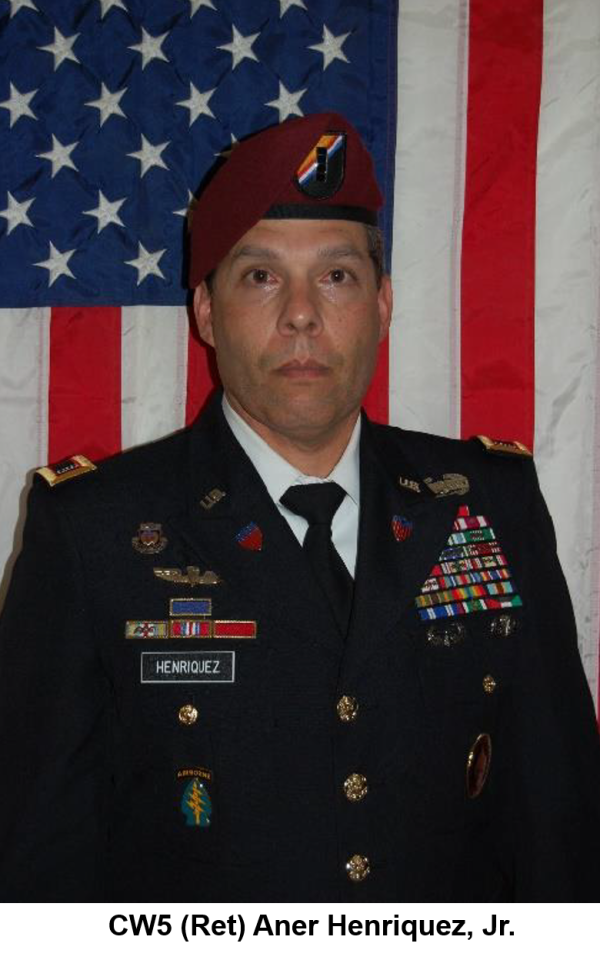 CW5 (Ret) Aner Henriquez, Jr. joined the Army in 1984 and was appointed a warrant officer in 2000. Throughout his 35-year career, he served throughout the Airborne and Special Operations community and the operational Army, culminating as the Senior Warrant Officer Advisor to The Adjutant General.
– Following retirement, CW5 (Ret) Henriquez continues to give back and take care of Soldiers, Sailors, Airmen, and Marines through his work with the Special Operations Command Care Coalition as a recovery care coordinator, where he passionately provides support for our injured heroes and their families.
– CW5 (Ret) Henriquez deployed ten times, including 64 months in Iraq and Afghanistan. A master technician and trusted advisor, his legacy impacting conventional and unconventional human resources operations over 18 years of persistent conflict made an indelible impact on the continued legacy of the Army Adjutant General's Corps.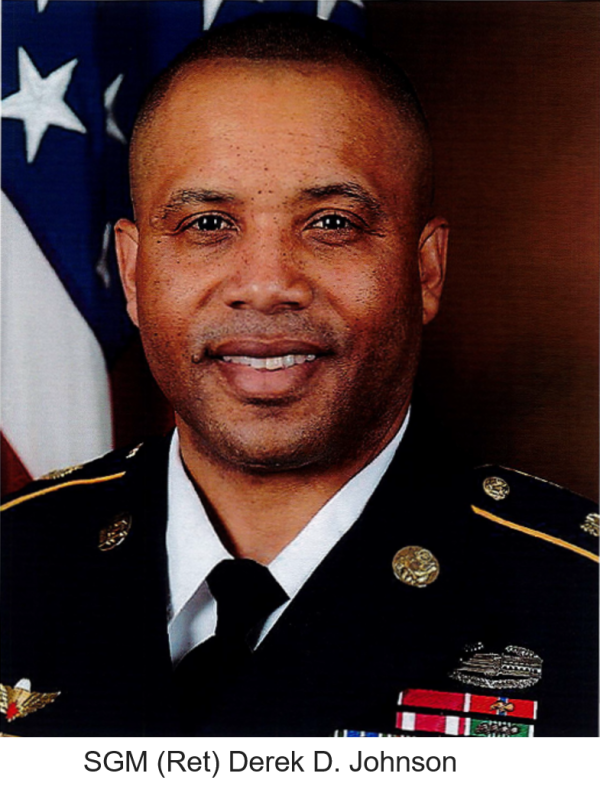 SGM (Ret) Derek D. Johnson concluded his 30-year military career as the Headquarters, Department of the  Army (DA) G1 Sergeant Major, where he developed, managed, and executed manpower and personnel plans,  programs, and policies for the total Army.
– SGM Johnson championed the Army's Credentialing Assistance Program; allowing every Soldier to earn a license/credential course using Tuition Assistance; contributing to Total Army readiness, professional development, retention, and preparing Soldiers for meaningful employment upon transition from military service.
– He led efforts to change the 50-year old DA Centralized Promotion Boards process to one focused on Talent Assessment; facilitating the Army's strategic objectives to improve readiness and sustain a workforce of trusted professionals.
– SGM Johnson served as a strong advocate for Leaders First; facilitating the CSA's intent of providing female leaders into combat arms organizations first before allowing newly assigned female combat arms Soldiers arriving into the formations; a movement toward equal rights and opportunities for all Soldiers.
AG Corps Distinguished Member of the Corps (DMOC)
Class of 2022
BG Daphne D. Davis
BG Patricia R. Wallace
COL Leslie E. Darling
COL Patricia L. George
COL (Ret) Angelia Holbrook
COL Alan G. Kellogg
COL Peggy R. McManus
COL (Ret) Michael C. Miller
COL (Ret) James L. Walker
COL Micheal A. Zweifel
LTC Chad M. Henderson
LTC (Ret) Christopher B. Nichols
LTC (Ret) Laura Wages
CW5 Thomas W. Smith
CW4 Erica D. Burton
CW4 Jessica M. Cooksey
CW4 Nicholas L. Rimmer
CW4 Robert M. Wolfe
CSM Robert H. Atkinson
CSM (Ret) Clayton K. Clark
CSM John A. Uribe-Huitron
SGM (Ret) Gary L. Martz
CSM Angel L. Ortizguzman
SGM Christopher P. Stevens
SGM (Ret) Gregory A. Drake
CSM (Ret) Willie C. Washington
SFC (Ret) Bradley Harzman
Ms. Tahnee L. Moore