Army Band Spotlight - The 229th Army Band (MDARNG)

Submitted by 1SG Sarah McIver
State Partnership Program Mission Success
This mission was a capstone event for the 229th Army Band in a year where our mission op-tempo has returned to pre-COVID levels. In TY23, the 229th received 65 mission requests and was able to support 50 missions across the state of Maryland and overseas.  
The 229th Army Band has been pursuing an SPP mission to Estonia for many years, as many band members have only heard stories of the previous mission in 2000. Following the best practices shared during the SPP brief given during ABLT 2022, my senior platoon leader (now promoted and on a broadening assignment), MSG Corey Hill, capitalized on his technician position and access to G-3 to initiate contact with the SPP director for Maryland. He explained the Commander's Intent to support the SPP and explained our capabilities and interest in being attached to missions. In 2022, our Jazz Exchange MPT supported a TAG event in Maryland that hosted senior leaders of Estonia and Bosnia-Herzegovina and local and state leaders.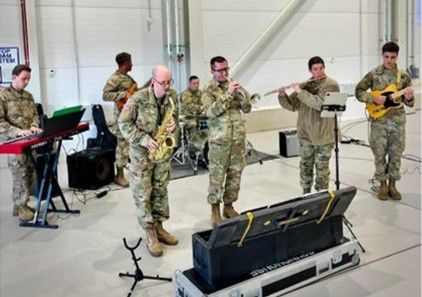 During the 2nd quarter of TY23, we were notified that there was interest in band support for the 30th Anniversary Event in Estonia, being held at the end of a weeklong joint training exercise called Baltic Blitz. Details were scarce, as most of these missions are planned and funded within 90 days. MSG Hill attended the IPRs for situational awareness. Once dates for Baltic Blitz and the DV closing event fell into place, we secured personnel availability to determine which MPT to field, reserved enough of our 58B funds to pay the orders, and created DTS authorizations to project the travel costs that SPP and G-3 expected to fund.  
Proposed schedule:
Day 1-2: Travel from Home Station to Tallinn, Estonia (commercial air)
Day 3: Mission
Day 4: Return home.  
Primary concerns:
With the end-of-fiscal-year funding constraints, we were only 100% approved to go three days prior.
We contacted the Embassy and SPP partners to determine the availability of borrowing or renting gear, but we were still awaiting a response. Therefore, our MPT needed to consolidate sound and percussion equipment for flying commercial air but ensure we had enough on hand to be self-sustaining in an airport hangar.
The ceremony and reception went smoothly – just another typical MPT mission. We performed the U.S. and Estonian anthems and listened to speeches from leaders of the Estonian Defense Forces, the MDARNG, and the U.S. Ambassador to Estonia. We then played background tunes during the catered reception. MDARNG Commander, COL Andrew Collins, was happy to have us supporting, and the SPP liaison for the US Embassy in Tallinn is now fielding a potential mission for Summer 2024. We look forward to further cooperation with our State Partners, Estonia and Bosnia-Herzegovina.  
Lessons Learned: Rather than travel with the rhythm equipment, rent locally. Our bulk baggage did not arrive with us in Tallinn, and the airline informed us it would arrive around the time our event was scheduled to begin. Our Embassy connected us with a local event rental company, and SPP informed us that emergency rental funds would be available for "mission-critical needs." So, the lead van proceeded to the Amari Air Base with our passport system, guitar player, acoustic trio, and one van procured equipment. Luckily, our Plan B rentals came through. We had rental equipment and were set up and ready to go. Not having to fall back on a flute, sax, and trumpet rendition of the Estonian and U.S. anthems was a relief!  
Fun facts: The U.S. Army Band (TUSAB) "Pershing's Own" is the official holder of National Anthems for State Partners. They provided us with the full version, a BQ version, and files so our arranger could adjust as needed. Very helpful, 100% would recommend.  
Anthems NCOIC, TUSAB "Pershing's Own" - SFC Sara Corry - sara.j.corry.mil@army.mil