AGCRA Scholarship Program - 2023 Winners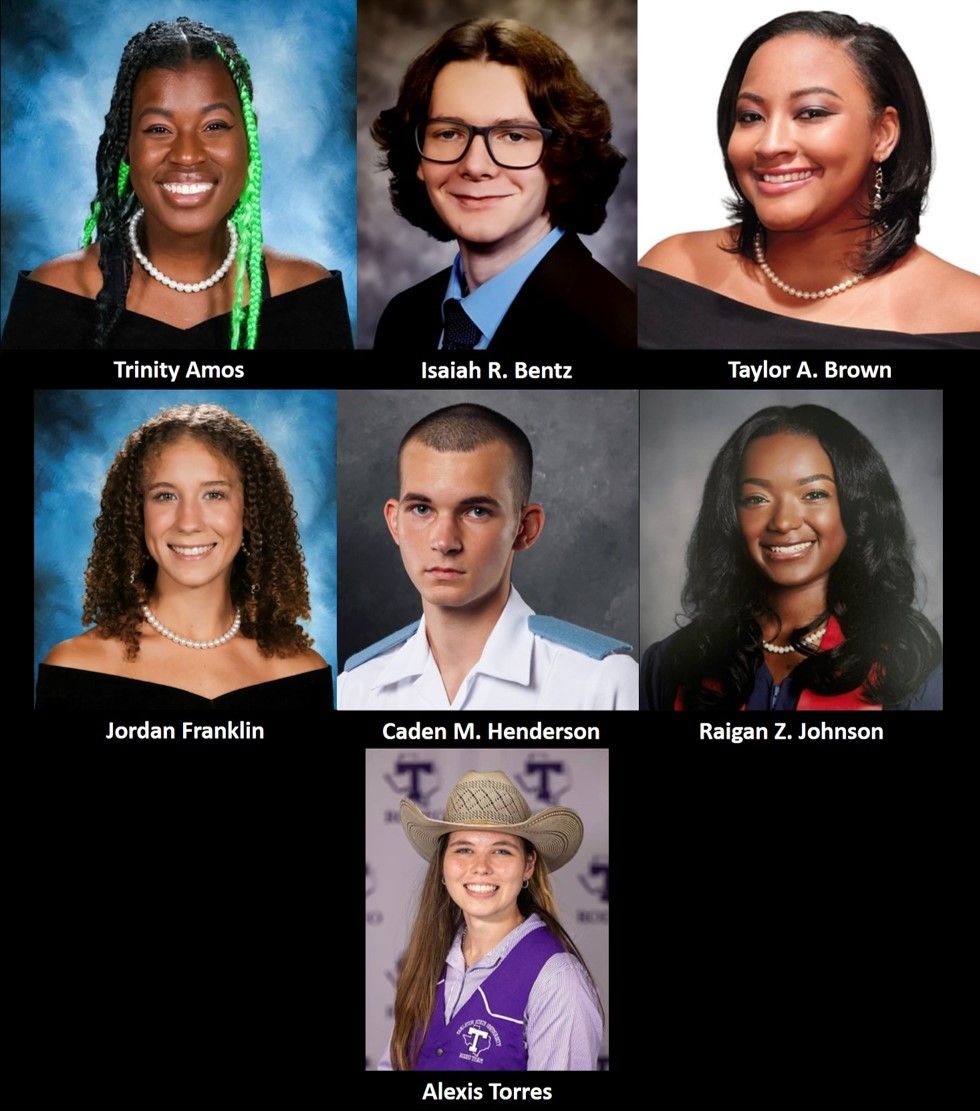 On behalf of COL (Ret) Robert L. Manning, AGCRA President, and members of the AGCRA National Executive Council (NEC), it is the Association's distinct honor and pleasure to announce the 2023 AGCRA $1,000 Scholarship Winners (listed in alphabetical order below):
* Trinity Amos, sponsored by MAJ Shaunarey Harris-Amos, attending the University of South Carolina
* Isaiah R. Bentz, sponsored by LTC Kevin Bentz, attending the University of Kansas
* Taylor A. Brown, sponsored by LTC James Brown, Jr., attending Louisiana State University
* Jordan Franklin, sponsored by LTC (Ret) Desdemona Franklin, attending the College of Charleston
* Caden M. Henderson, sponsored by LTC Chad Henderson, attending The Citadel
* Raigan Z. Johnson, sponsored by LTC Naomi S. Holleman, attending the University of Alabama
* Alexis M. Torres, sponsored by MSG Melissa C. Torres, attending Tarleton State University
The AGCRA Scholarship Program is in its 12th Year and has been able to provide $1,000 scholarship awards to highly qualified, deserving college-bound AGCRA members or Family members. All applicants who applied for the 2023 AGCRA Scholarship Program were highly qualified, and the competition was once again very competitive. Our winners were selected as best qualified to receive this year's scholarships based on their superior academic performance, community service, and ability to articulate future goals.
AGCRA Scholarship Program Milestone! With the selection of this year's seven students and the renewal of last year's winners who have maintained a 3.0 GPA, AGCRA has now exceeded $100,000 in total scholarships awarded since we started our program in 2006 with the initial awarding of four $1,000 scholarships. In 2018, we awarded eight $1,000 scholarships (our highest year). The entire class of 2018 winners renewed their scholarships by maintaining a 3.0 GPA, the only time in program history that the whole class of recipients renewed for a second award.
AGCRA scholarships are primarily supported by sales of our historic AG Corps Print, "Washington's Watch Chain". You can own "Washington's Watch Chain", created by world-renowned artist Mort Kunstler, and help support scholarships for AGCRA members and their Families now by going to our Sutler Store. If you haven't already done so, please consider purchasing a Print and encourage your Association teammates to do the same.
Additionally, AGCRA Scholarship Program donations can be made directly from our website in our Sutler Store. Just look for the appropriate scholarship donation item.
Congratulations again to our 2023 AGCRA scholarship winners!