AGCRA Potomac Chapter - AG Professionals' Mentorship Program

By CPT Katie To
The Adjutant General's Corps Mentorship Program event occurred on October 19, 2023, at the USO, Fort Belvoir, Virginia.
Over 80 Adjutant General Sergeants Major and Command Sergeants Major across all Army organizations in the National Capital Region attended, which included Headquarters Department of the Army, Major Army Commands, Direct Reporting Units, Corps, and Divisions.  The ultimate goal was to mentor junior Soldiers regardless of rank or component.  
The event was designed to be informal. Sergeants Major and Command Sergeants Major all dressed in business casual clothes to allow Soldiers to express themselves freely without feeling the pressures of rank. Soldiers maneuvered through each row of tables, discussing career paths, and seeking advice regarding several other topics.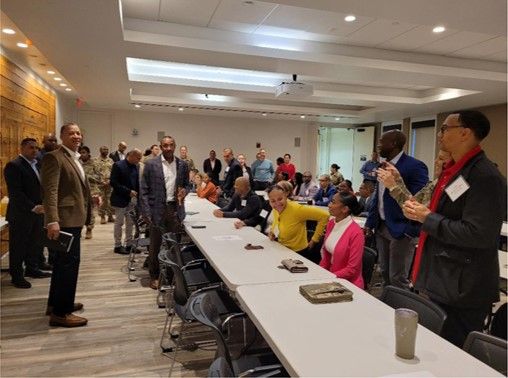 SGM Noemi Conley, the Cadet Command G1 SGM, shared that, "anytime we get to talk and interact with Soldiers is a great day. The future of the Adjutant General's Corps is our young Soldiers and Non-commissioned officers."
SPC Luisa Lopez, from the 704th Military Intelligence Brigade, Fort Meade, MD, described the event as, "an informal way to interact with leaders and gain an understanding of what steps to take for the future."
CPL Jack Culler, from DIA, Joint Base Anacostia-Bolling (JBAB), located in southwest Washington, D.C., mentioned how nice it was to see different components at the event. He was able to connect with members of the National Guard and the US Army Reserve.  
All in all, the event was a win for all Soldiers in attendance. SGM Reginald Smith, Army Futures Command G1 SGM, proudly accepted new mentees, calling it a privilege to listen to the Soldiers and provide guidance. As for SSG Justin Villarreal, he picked up good pointers and received resources to set himself apart from his peers with the aspiration to climb to the rank of Sergeant Major.